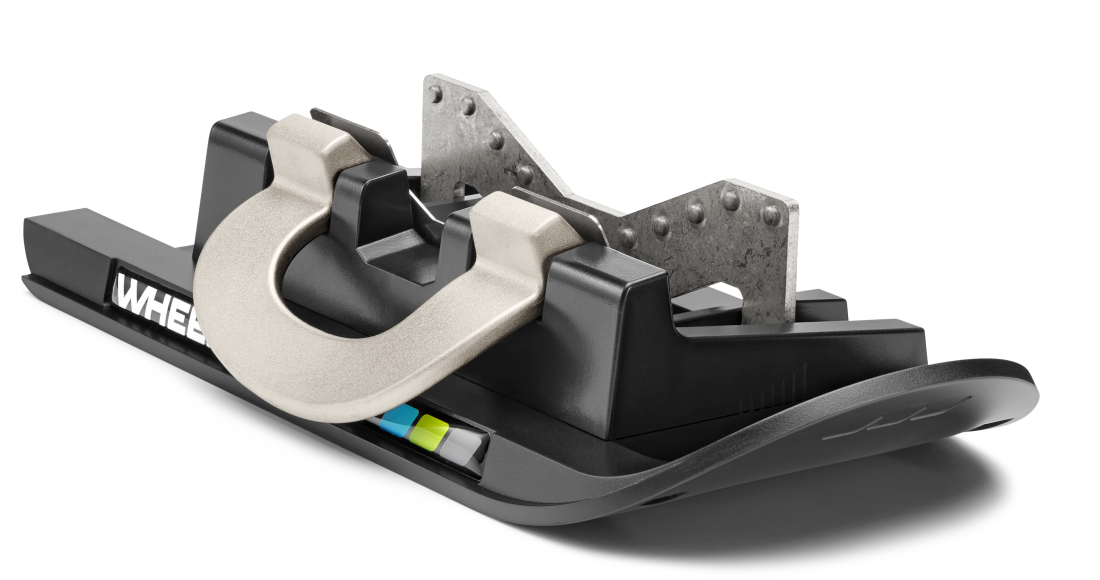 Safety and mobility in a wheelchair – even in winter on snow and ice?   It is now possible with Wheelblades S!
Wheelblades are small attachments made to help wheelchair users operate in snow or sand conditions. They are small, high-end skis that are fixed to the front wheels of your wheelchair in a simple but solid way. Never get stuck in snow again with Wheelblades!
How do wheelblades work?
Wheel blade skis are made to improve the wheelchair support and prevent it from sinking in snow or sand by increasing the contact surface. This helps evenly distribute the pressure onto the ground, allowing the blades to run over the ground with very little pressure. The runners move along the ground with very little friction: even larger irregularities in the terrain can be easily navigated!
To ensure that the tip of the ski always points forward, the binding was deliberately positioned in the front part of the ski. Stability while in motion is provided by two channels on the bottom of the Wheelblades that compress the snow and let you glide as if on rails.
How to use Wheelblades?
Wheelblades are a simple yet extremely efficient attachment for your wheelchair. They are made to be easily installed and removed and can be fixed to your front wheel in 4 easy steps:
Put the Wheelblades on the ground in front of your chair
Lift your wheelchair slightly and align it with the first Wheelblade
Insert the front wheel into the ski's fixation
Lock the ski in place and you are ready!
Simply repeat the same steps for both wheelblades and you will be gliding on snow in no time!
Advantages of using Wheelblade products on your wheelchair
Wheelblades S are lightweight and reliable
Using wheelblades on your wheelchair will make both your life and those of your helpers easier! People will now be able to push you even in snowy conditions thanks to the gliding, and you will have more independence than ever before.
They are made of high quality, robust materials that are resistant to chocs and fractions. You can count on your Wheelblades to support you for the years to come!
Wheelblades are quick to put on and quick to remove!
Thanks to the easy-to-adjust binding, this practical aid can be attached to any conventional wheelchair model. With the patented quick-release mechanism, you can switch from wheels to runners with ease. Attaching the wheelblades is a very quick process thanks to a design that requires no tools and very little strength.
These wheelchair accessories will fit almost all front wheels
Wheelblades are designed to be a "one size fits all" option! Their patented bindings have universal adjustment options that can accommodate wheel diameters from 15 – 30 cm as well as wheel widths from 2.0 – 6.5 cm.
Technical specifications of Moove's Wheelblades
Setting options: 2.0 – 6.5 cm
Suitable for: manual wheelchairs
Available: as a pair