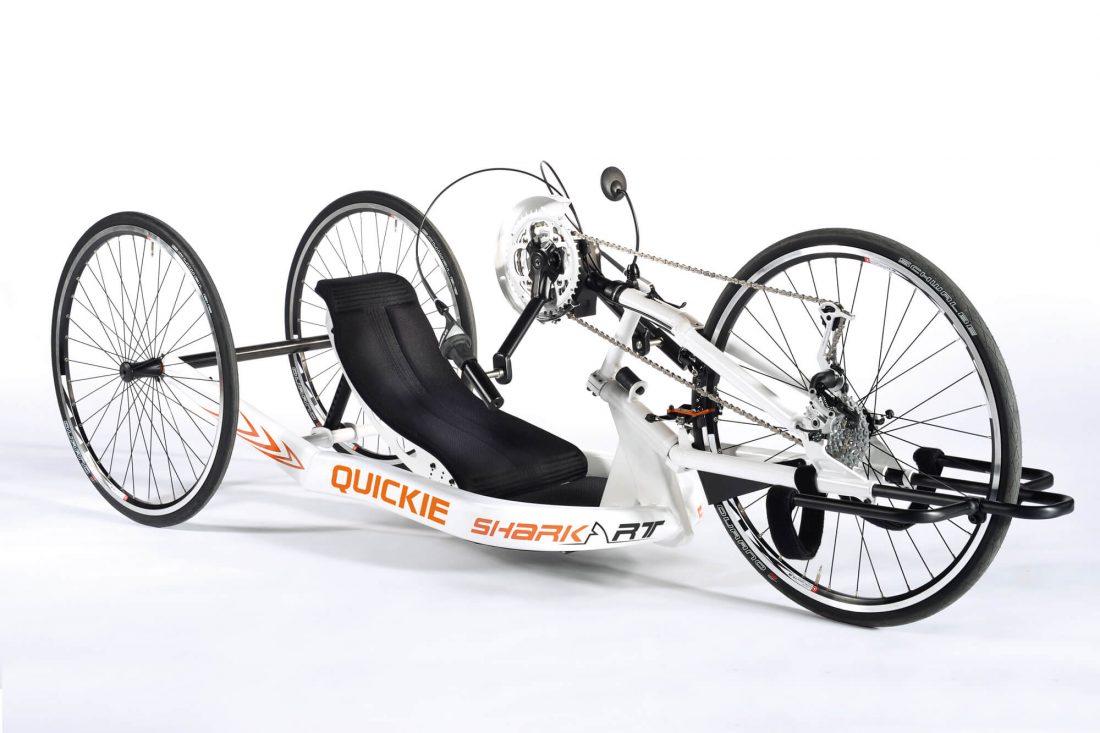 Being active is incredibly important for wheelchair users as most of their time is spent sitting. At Moove we want to provide our clients with the best and most efficient wheelchair products.The Quickie Shark RT Hand Bike has shown itself to be best hand bike for leisure or semi-professionals. Choose a chair like this one to guarantee comfort which increases your time spent outside exercising.
What are hand bikes and handcycles?
A handbike and a handcycle are both synonyms of a cycling sport that is popular with those with limited use of their legs. It requires the biker to cycle with their hands rather than their legs. This product was invented in the 1980s and has been used for recreation, fitness, and competitions. Handcycles differentiate themselves from classical bikes by having 3 wheels compared to the traditional 2 wheels on a bicycle.
There have been many new models of hand cycles since their invention, with new technology and abilities pushing performances. Today, the advancement in technology has made handcycling a popular sport for both leisure seekers and competitive athletes.
Cycle towards your next goal with the innovative Quickie Shark RT hand bike
Bring your hand cycling to the next level with Quickie's bikes
The newest model of hand bike by Quickie is now available to all those passionate about cycling! Delivering the same outstanding performance as the Shark RS (the first choice hand bike for professional athletes), the RT is here for leisure cyclists  or for semi-professionals that would enjoy more flexibility and adjustability when riding.
No compromises on comfort and performance with the Shark RT hand bike
A handbike specially made for wheelchair users
Increase your performance and become the best athlete you can be without compromising on comfort. In addition, hand cyclers have shown to enjoy their rides with the Shark RT due to its high comfort and increased safety.
Choose equipment you can trust with our handcycles
The Shark RTs new and innovative frame is designed to allow you to perform at your best.  This handcycle option offers more adjustability and flexibility, which means you can achieve your optimum position to rule the road. At Moove, we want to provide our customers with the best hand cycle on the market. We take your comfort and needs seriously when choosing the handcycles we offer.
Adapted handcycles with improved comfort that are perfect for wheelchair users
Enjoy your bike rides like never before with a design made for your comfort without having to sacrifice performance! Features such as a footrest adjusted to your leg length and an ergonomic new backrest allows you to ride for hours without discomfort or injuries. Comfort is important in a hand bike: the more comfortable the chair is, the more likely the chair is to be used regularly and for long periods of time.
Top safety features including a new parking brake
Transferring in and out of your hand bikes has never been easier! Enjoy a beautiful view, talk with a friend or simply take a break thanks to the Shark RT's new and improved parking. The parking brake secures the Shark RT hand bike from rolling forwards or backwards.This allows hand cyclers to find much appreciated independence in the sport they love.
Enjoy built-in ergonomics with Quickie's handbike
The Shark RT's new innovative backrest, thanks to its ergonomic adjustability, allows you to improve and perform better than ever. The independently adjustable back elements of the bike is a great feature that enhances the performance of the driver and allows for optimal power transfer. With a good posture, the chances of more outings are increased and these generally are also longer outings. At Moove, we love to see our customers exercise and enjoy outdoor outings cycling on their hand bikes on a regular basis!
Hand bikes used for physical therapy and rehabilitation
An interesting fact about the sport of hand cycling is that it has become a popular sport for its use as a physical activity in therapy and rehabilitation. This method demands arms strength, balance, and coordination as well as endurance and general fitness. The circular motion required activates many muscles that are not typically used on a daily basis. This method of physical therapy is popular in both children and adults: cycling truly has no age limit! Find pleasure in sports again by trying hand biking.
DISCOVER THE QUICKIE SHARK RT HANDBIKE
Steer towards the right hand bike for you with the Quickie Shark RT handcycle specifications
Find out more about the characteristics of the bike and compare it with other models. This hand bike will steer you towards the right choice. You can even choose the colour that you want to add a touch of personalization!
WEIGHT: from 14.9kg
FRAME WIDTHs: 38 / 40 / 42cm (15 / 16 / 16.5")
BACKREST: Angle adjustable 20° to 60°, height adjustable 25 – 44cm (10 – 17")
CRANK LENGTH: 17.5cm (7")
GEAR: 3×9 Sram
BRAKE: Sram
COLOURS: Brilliant Marine, Brilliant Red, Matt Black, Signal White
Choosing Moove to help the purchase decision of the best hand bike
At Moove, we support your buying decision before, during and after the transaction. Be at peace knowing that we will provide undivided customer service to our clients at all times. Contact us for any questions and concerns that you may have, our employees will be more than happy to answer any questions and help you choose the right handcycle options. Our employees are carefully selected to be able to direct our customers towards the best leisure and professional wheelchairs on the market.