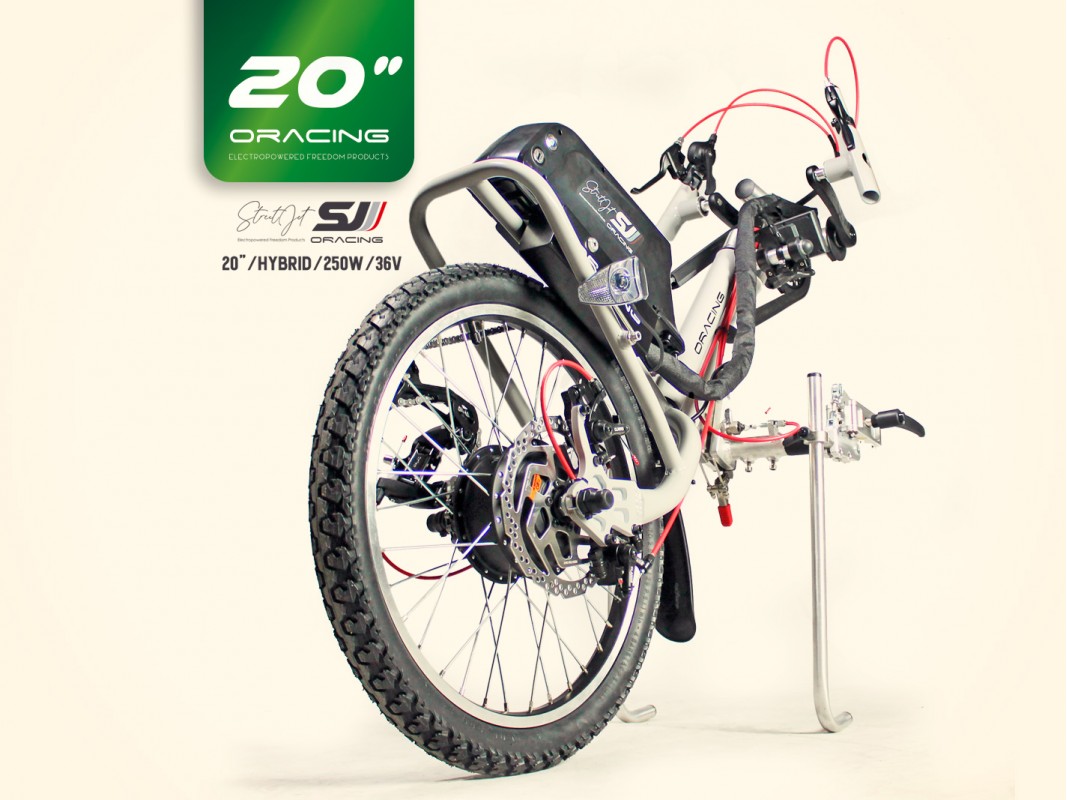 Looking to move more outdoors, but can't get up those hills with your wheelchair? Want to join your friends on long outdoor adventures, but worry about the slopes? Worry no more with the best outdoor hybrid handcycle available on Moove: the Street Jet Hybrid Handbike attachable to your wheelchair! Work out and stay in shape with this incredible handcycle, and with the integrated electric assistance of the Street Jet Hybrid: it's the perfect bike for the adventurer in you!
Do sport, stay fit and enjoy the outdoors with our Street Jet Hybrid Handbike attachable to your wheelchair.
Thanks to the built-in electrical assistant, it is the ideal handbike for adventurers, long distances, climbing hills or when you enjoy the mountain.
The Street Jet's clamp is a wonder. Fitting any sized tube, all that's required is to line up perpendicular to the frame and snap into place! There's no small parts to turn or flick, just a black paddle that can be operated with just your palm: great for anyone with limited hand function!
Optional additions to the Street Jet Hybrid
The Street Jet Hybrid handbike comes with the optional plastic mudguard above the front wheel, which helps prevent splashing water or dirt on the rider. Due to the hybrid method using both a single-ring crank system and electric assist, full quadriplegia accommodation is unfortunately not available on this Street Jet handbike model. For further questions, do not hesitate to contact us here.
Main specifications
Material: Aluminium AL 7020 in frame
Display: Multifunction LCD, 5 speed settings
Wheel: 20" Wheel
Fender: Plastic *OPTIONAL
Cranks: Single ring cranks with ERGO GRIPS.
*Adjustable crank position in height and depth
Connection: Easy JET FIX CONNECTION
Support: Stand
250 W MOTOR POWER
36V / 15,6 Ah Lithium BATTERY
5 ASSISTANCE Levels
DOUBLE disk brake 160 mm.