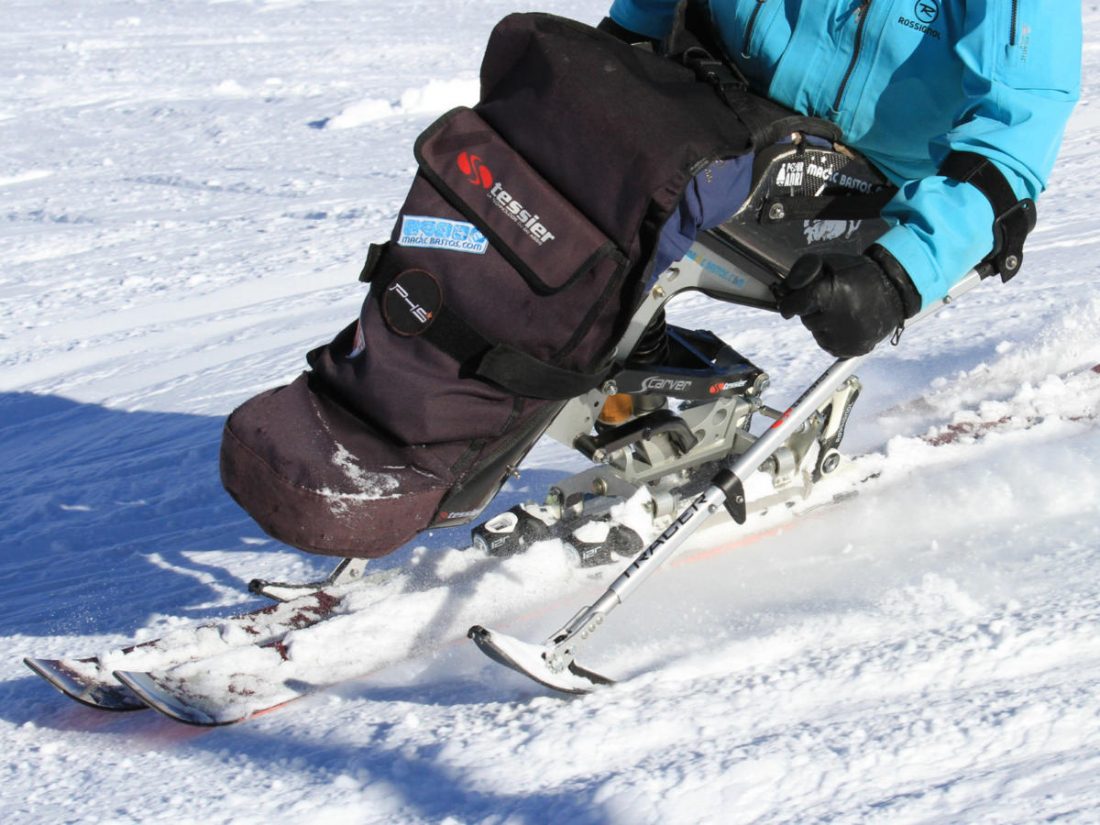 The latest TESSIER innovation – Tempo Uniski and Dualski
Whether you are a beginner or a very experienced sit skier, the Tempo will let you enjoy the sport you love and be your partner on the slopes for many years to come. Coming in both Monoski and Dualski options, the Tessier Tempo is intended for people who have a lower limb disability. It allows skiing independently with remarkable performance, versatility, and style. Easy to ski, it is just as easily handled and allows for fast improvement due to its amazing technical features!
Let the Tempo fulfil your expectations and become your partner on the slopes for many years to come
Designed to be both accessible and useful to any degree of skier, the Tessier Tempo is able to completely satisfy the most experienced skiers. If you are looking for a high-quality wheelchair ski, either monoski or dualski, without limiting your desire to escape, the Tessier Tempo is made for you!
The Tempo offers adaptive skiers an optimal experience
1. Efficient
The suspension movement and the specially designed Öhlins shock absorber offer an excellent ski / snow contact.
2. Versatile
The Tempo helps you to improve yourself. You will enjoy whatever the conditions of snow and slope.
3. Easy
2 strong gas jacks help you to rise up for the chairlift without any efforts. Taking the chairlift becomes a child's play !
What can the Tessier Tempo bring to the table?
First and foremost would be its fully suspended frame. Equipped with an Öhlins shock absorber, a specially designed shock absorber specifically geared for the Tempo Monoski and Dualski, all pressures and tensions from the fully suspended body and feet of the skier can be evenly distributed and relieved. This allows for more overall grip, increased efficiency, and excellent ski / snow contact.
Versatility is another strong suit of this sit ski. When it comes to chairlift use, the Tessier Tempo comes equipped with 2 strong gas jacks that, through the frames carefully designed kinematics, allow you to unlatch the back of your seat and enter a chairlift without any effort or problem. This way you will not have to worry about pushing your body weight up onto the seat; the gas powered jacks will do the work for you, allowing for super seamless transitions from the slopes back to the top! 
The perfect sit ski to learn thanks to its assistance and piloting bar
The assistance and the piloting bars are very simply fixed in the rear on the Tempo frame. No need to remove the seat. The Tempo is ideal for learning and the assistance bar offers more comfort to the ski instructor.